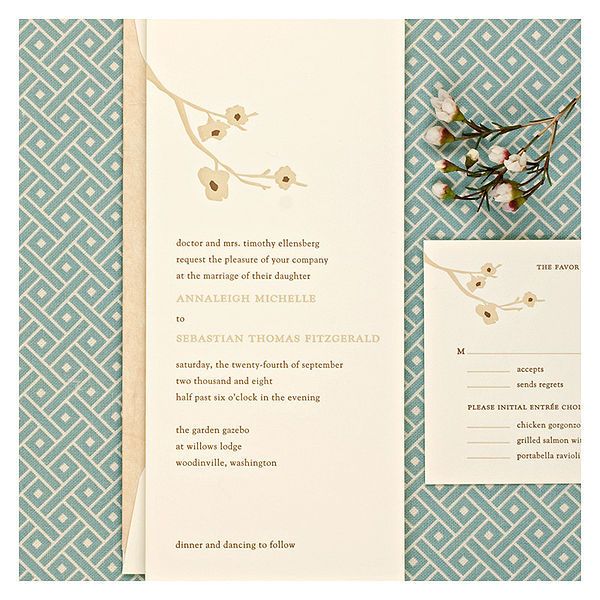 Once you have the list of who you want to invite to your big day, you need to make sure you sort your wedding invitations. They aren't as easy as you think as there are some very crucial details you cannot forget to include on your wedding invite.
Who the invite is from
It's important to decide whether or not you are putting the invite from the bride's parents. Traditionally, the invite would state the bride's parents names and surname. They would be requesting the guests to attend the wedding of their daughter to her partner. But nowadays, as many couples have split, it is often the case to be from the bride and the groom.
Who's invited
Make sure the invites say clearly who's invited to the wedding. You don't want your guests to invite extra people, so make sure you state whether they can or cannot bring someone. As it says here, you should include the children's names otherwise, their parents might not think they are invited too. Also, make sure you have spelt the names correctly on the invite. It often leads to an embarrassing situation if you have spelt the wrong name. As we discuss here, you should double check the Handmade wedding invitations for errors before the final proofs are created.
What they are invited for
Make sure you put clearly what your guests are invited for. You may ask some people to the whole day while others may only be invited to the wedding reception. So that your guests can know how much of the day they need to book off work, make sure you put whether they are only coming for the evening. It helps them to plan in advance and make necessary arrangements such as babysitters and taxi firms.
The times of the wedding
You need to put the wedding times on the invites so that they are not late for your wedding. You don't want people to ask constantly what time they should be there. You should also state whether the ceremony begins at that point, so they know whether they have to be there before. Also, indicate what time the Wedding Breakfast and Reception will start so that they know what time these will happen if they can only make part of the day.
Ask them for any dietary requirements
If your guests are coming for the wedding reception, you will need to know whether they have any dietary requirements. You don't want to serve your guests dinner that they are allergic to. Your venue will ask you in advance what everyone wants, and will need to know any dietary requirements. You should not give your guests a choice of menu options because this will complicate sorting out the food for everyone. But you can tell them there is a vegetarian option if they would prefer that.
Full addresses of the venue and ceremony
Another important detail you need to add to your wedding invitations is the full name and address of the venue and ceremony. If they are going to be at separate addresses, then it is essential that you put the details there so that they can organise transport from one to the other. You should also give them an email and telephone number of the venue so that they can ring if they do get lost. Some of your guests may be driving miles and not be aware of the area. For extra help, some couples add in a map of the area and how to get between the venues.
Accommodation for your guests
A wedding day is a long day for guests and they will be looking for some accommodation to rest their heads after such a busy day. If they have come from a long way away, they also will need somewhere to stay before making the journey back the next day. As discussed here, you should tell them if there is accommodation at the venue, and if there isn't, where they could stay instead. If you are getting married at a hotel, they generally put aside some rooms for the wedding guests. You could even give them a list of hotels and prices.
Follow the above, and your invites will look great. Don't forget to add a date for RSVP in your invites. If you don't hear back from guests, it can delay everything from table arrangements to wedding favours. Try and give them, at least a month, to make a decision on whether they can make it to your big day.